Whether at home or at the office, there is always a use for upholstered furniture. Upholstered chairs are ideal for office environments and are still almost always present at home. Think about where to enjoy quality cuddling with your lover after a hard day's work- the couch, or where to enjoy some TV with the children or your pet- still the couch. Little wonder the couch gets dirty so easily. The best sofa cleaning the hills district can eliminate the dirt from the couch. Moreover, upholstered furniture is designed such that they have a high capacity for absorbing dirt and dust. But this doesn't mean you should get comfortable with dirty upholstery. Dirty upholstered furniture would make your home less pleasing aesthetically. It could also pose grave danger to your health and that of your loved ones.

What if I don't clean my couch?
A clean couch could translate to a healthier life. Dirty couches are filled with dust, pollen and other allergens that could cause or aggravate diseases such as asthma and other breathing problems. We also have the best couch cleaning the hills district offers. We can help get rid of even deep-seated dust and dirt, leaving your couches clean dry and healthy. You can always take that deep breath with your face buried in your couch without having to worry about your health. We also provide sofa cleaning in the hills district for your upholstered office furniture.
The Best Couch Cleaning The Hills District
We provide the highest quality upholstery cleaning the hills district can offer. Among many other things, we help restore the fading colour and glow on your upholstery. Our professional cleaners are perfectly equipped to get rid of the toughest stains on your upholstery, bringing the colour back to your office or living space. We are well aware that you spend so much time on your sofa, and probably fall asleep on it. So, we are even more careful about the chemicals we use for sofa cleaning in the hills district. Our cleaners take care of all the dirt on your upholstery, including those that are trapped within the matrices of the upholstery fibre.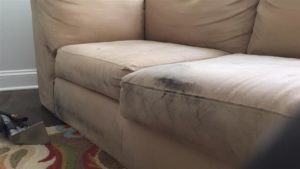 We do it in no time
Our experienced technicians understand how fast you would want your office and home furniture cleaned so that you could get things back to normal in little to no time at all. That is why we use specialised drying techniques, making us the best sofa cleaning the hills district has. Complete drying is achieved shortly after cleaning, and you can trust our team to leave your home or office with perfectly, clean and dry furniture. We also provide upholstery protectant that forms an almost impenetrable shield around your upholstery increasing its ability to resist stains that could otherwise be permanent. Deodorants are also employed to prevent any unpleasant odour that may arise from the chemicals used.
Call us now
Why would you want to spend another day in your home or office with dirty furniture?  Think of how much business you could be losing without being aware of the reason. Think about how classy and neat your home and office would look once you hire our upholstery cleaning services. There's only one decision to make and it's pretty obvious. Contact us today for the best carpet and upholstery cleaning in the hills district and you'll be glad you did.