Rugs are an essential part of the complete interior design of any home. They contribute greatly to the aesthetics and also serve the additional purpose of filtering the outdoor air coming into the home. You might have wondered why rugs are made from fabrics that absorb a lot of dirt. Their fabric aids their special function of trapping dust, dirt, pollen, other allergens and even microorganisms. Thus, it is no surprise they get dirty easily. To ensure this function is continually performed, you need to regularly invite the best rug cleaning the hills area offers.
Persian Rug Cleaning The Hills District
The most effective Oriental rug cleaning the hills can boast of keeps your oriental rug healthy and clean. Our rug cleaning services also extend to Persian Rug cleaning the hills area. You can be sure of having a clean and healthy carpet rug if you invite us for carpet rug cleaning in the hills district.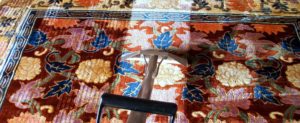 What If I Don't Clean My Rug?
There are so many reasons why this is such a bad idea. Your rug plays no small part in making your home aesthetically pleasing. Your home's allure and spark may just be fading away with an unkempt rug. Asides the aesthetics, a dirty rug could also have a lot of negative impacts on your health as well as that of your family and pets. Regular exposure to dust and allergens buried deep inside your dirty rug could cause or aggravate asthma and other breathing problems. A wet rug is an excellent place for mould, fungi and possibly bacteria to grow out of control. These organisms could lead to a wide variety of skin and even systemic infections.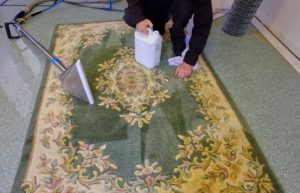 Why You Need Us
Our experienced technicians are experts at Rug cleaning. We have the best rug cleaners the hills district can offer and they know their onions. The techniques and chemicals used are sure to preserve the texture and dye in your rug. Our professional rug cleaning services encompass rug inspection and quotes, as well as pick-up and delivery, all at an affordable rate.
We are also into rug repairs, re-dying, odour removal, and pet stain removal. Our goal is to deliver your rug free of even the most stubborn of stains and with a nice fragrance to match. We understand how precious your rug is, so we avoid chemicals that could be harsh on the rug. Our cleaning tools are also tender, while still being very effective. Perhaps your rug has been wet for a while and has even grown mildew, we have the most efficient rug cleaners the hills area can produce. They are equipped to come to your rescue and provide solutions to your rug cleaning problem.
Different Strokes For Different Rugs
We have great experience in the rug cleaning business and we recognise the diversity in different types of rugs. We have the best methods for Oriental rug cleaning the hills, Persian rug cleaning the hills, Carpet rug cleaning the hills and any other type of rug you may wish to clean. You can be sure of the best results from our techniques that are perfectly tailored to suit the nature of fabric and type of each rug.
Call us today for the best rug cleaning service in the hills district can deliver.